Tubz Australia Pty. Ltd. is a new business here in Australia, providing the latest Tubz Brands directly into this region for the first time.
We have aligned ourselves with Tubz Brands UK, to bring to you the very best of what confectionary has to offer, in simple to use vending towers that provides all of your customers a varied choice of best selling confectionary.
Our vending towers are coin operated only (No power required) and are installed free of charge to all venues. There are no contracts, no liability, minimum space is required and once the towers are operating, provides great options to staff and customers at all times.
Tubz Australia shall be offering operator based packages in the near future that can create additional income to any interested party who is based anywhere in Australia and New Zealand.
You can contact us at anytime if you are a potential site or are interested in the forth coming operator franchise packages that will be available in the near future.
Tubz Australia will provide extensive coverage throughout this region, to all venue/sites and operators and we look forward to seeing "What's in yours".
Tubz Australia is a well known and respected manufacturer in the Vending business, mainly known for its own award winning and No. 1 selling Tubz products.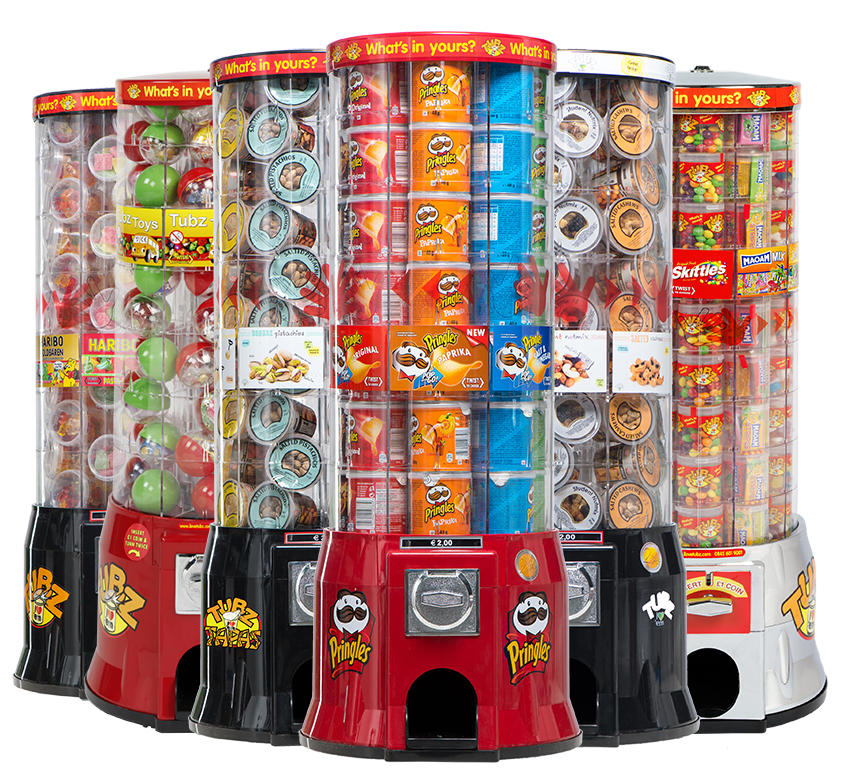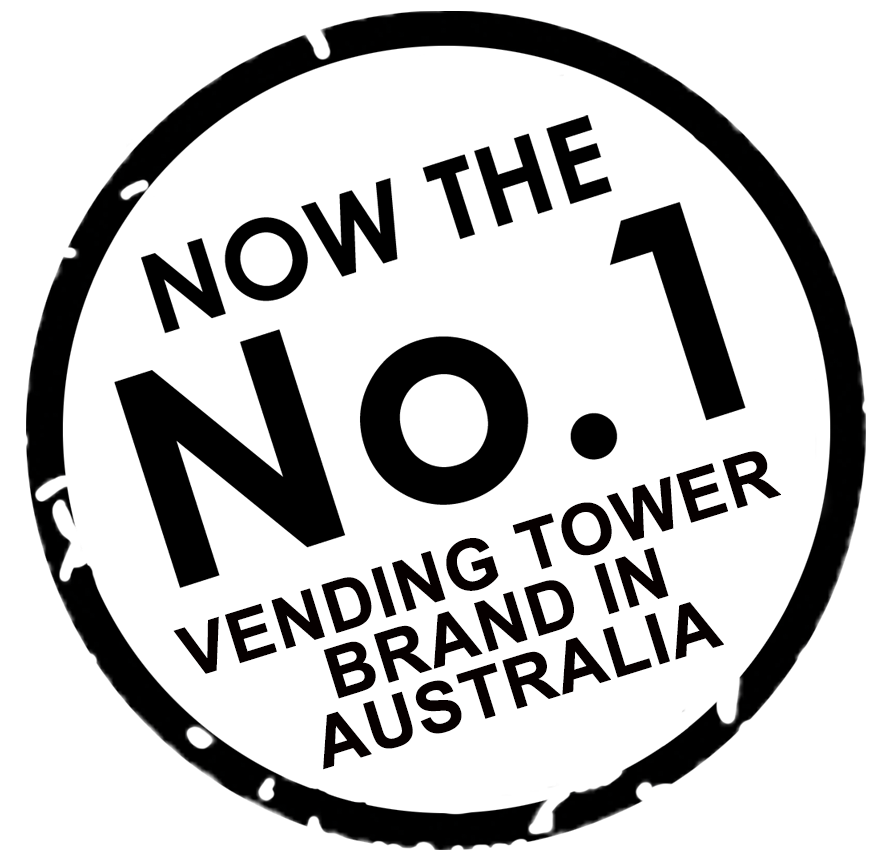 Tubz Australia has become No. 1 by its commitment to providing high quality products, friendly, reliable and flexible approach to businesses of all sizes.
At Tubz Australia we believe that everyone deserves the widest choice and the best quality, that is why we constantly source only the finest ingredients and products from around the world. Including major brands: Skittles and ROLO® Mini chocolate confectionery.
Established for many years now Tubz Australia has the largest selection of vending towers and products available.
What vending machines do we offer?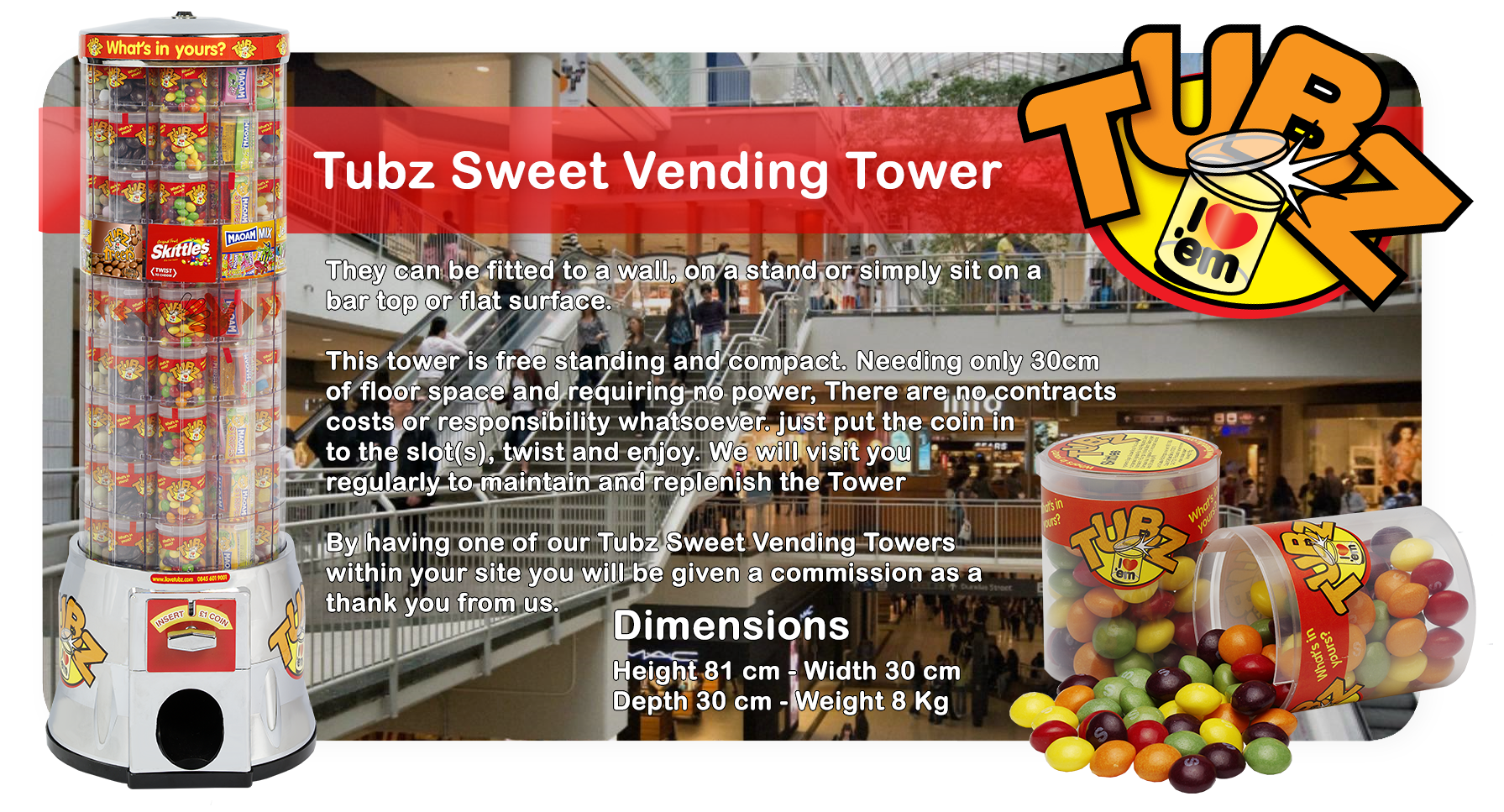 Tubz Sweet Tower
The Tubz Tower is an attractive chrome coloured vending machine which vends small TUBZ pots filled with many different confectionary products including brand names! Whether you are at a Children's play centre, retail outlet, shipping centre or family bar: simply twist and choose the delicious can of your choice!
Fillings
We have an agreement with several world famous brands such as Haribo, which is one of the brands we offer from the TubzTower vending machines: our assortiment features Haribo Jelly Babies, Toberlone, Skittles, Nestle Rolos and many more delicious world famous candy!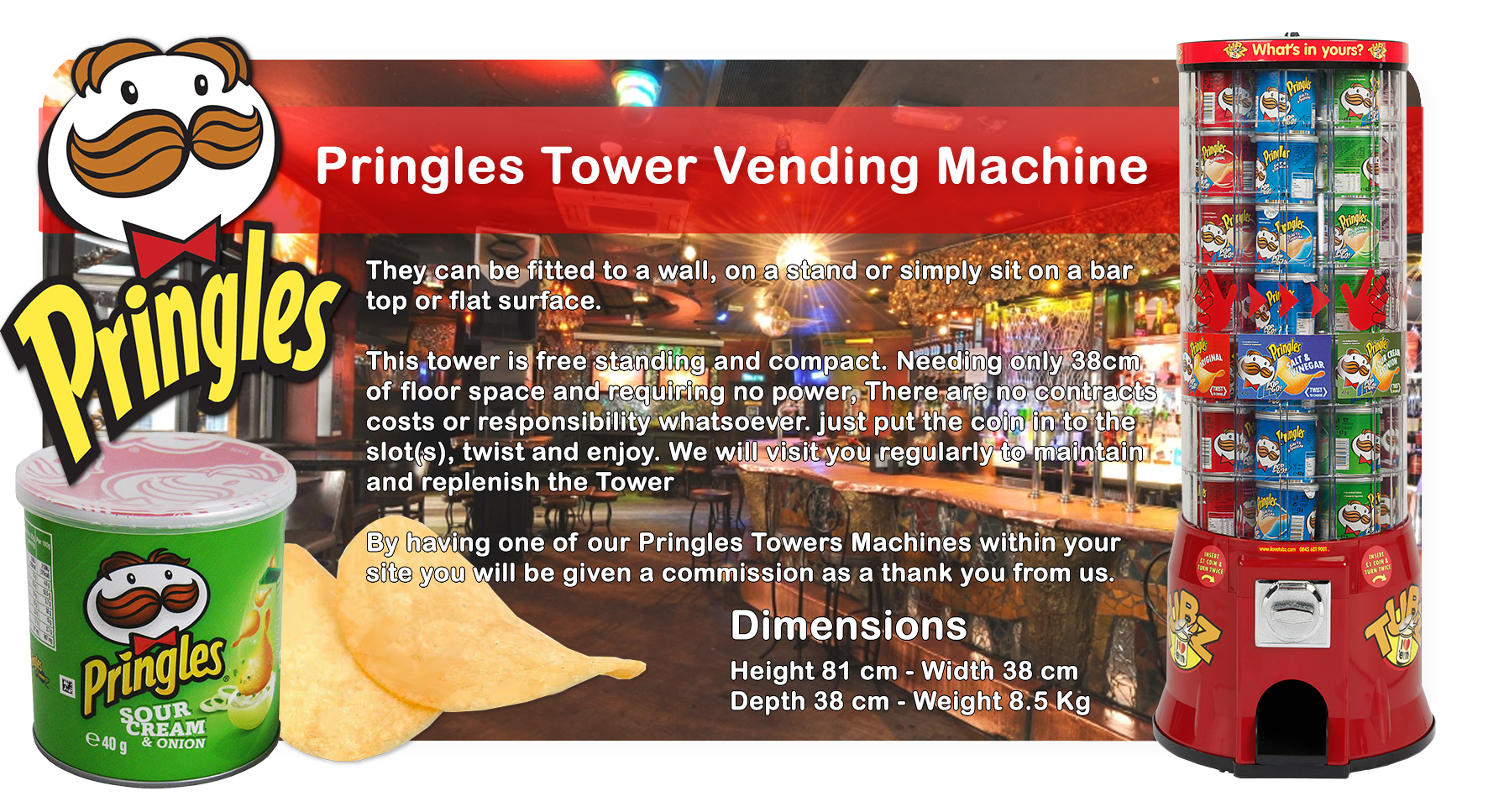 Pringles Tower
The Pringles is an attractive red or black coloured vending machine suitable for vending 40g cans of Pringles chips and now a selection of branded packet products in our Maxi Tubz range!
Whether you are at a bar, pub, hotel, bowling alley or even at your office: simply twist and choose the delicious can of your choice!
Fillings
This brand doesn't require any further introduction: everybody knows the world famous brand of Pringles chips!
Our standard range consists of the following flavours: paprika, original, sour cream & onion and hot & spicy.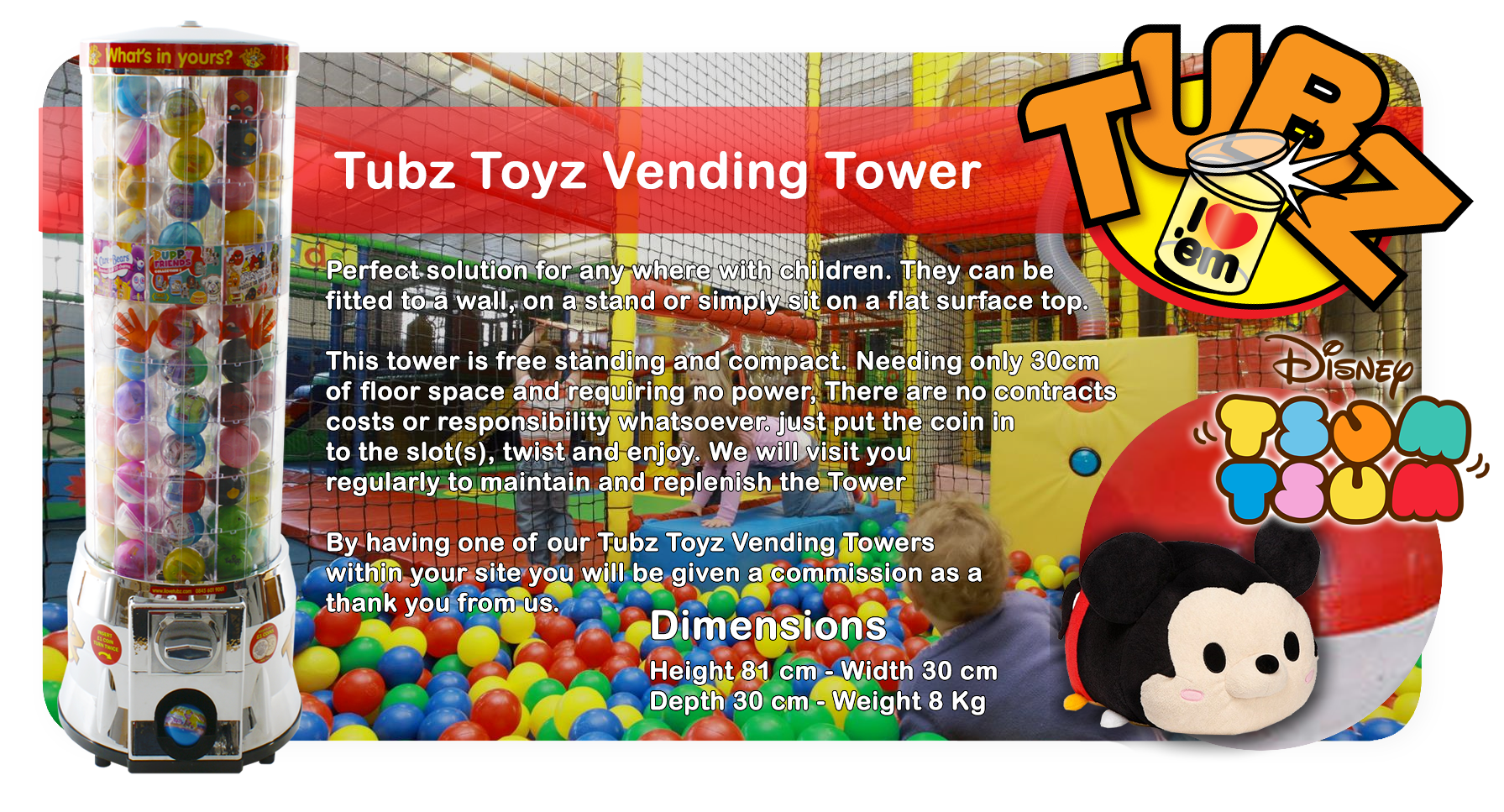 Tubz Toyz Tower
The Toyz Tower is an attractive vending machine based on the Tubz Tower but converted to allow it to  vend round TUBZ capsules filled with many different toys included brand names such as Disney, Marvel & Frozen. Whether you are at a Children's play centre, retail outlet, shipping centre or family bar: simply twist and choose a fantastic toy or novelty item every time!
Fillings
Sqwishland Interactive Game Toy, Tubz Bouncy Balls are some of the range of Tubz Toyz we hold in stock. Whether you are at a Children's play centre, retail outlet, shipping centre or family bar: simply twist and choose a fantastic toy or novelty item every time!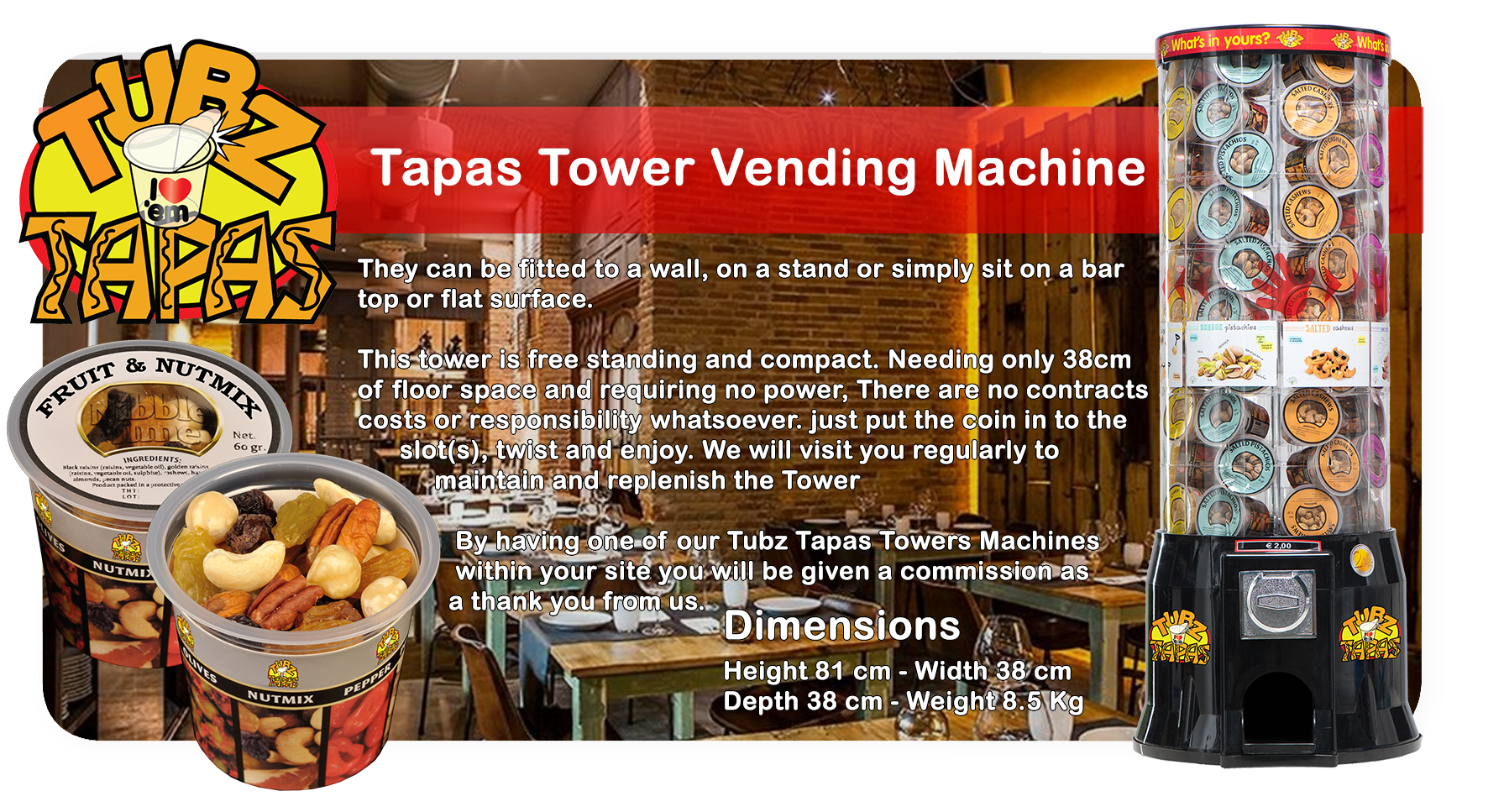 Tubz Tapas Tower
The Tapas Tower is an attractive black coloured vending machine. They are our newest exciting addition and are taking Europe by storm. Designed to project a more up market and quality product range the specially designed Tubz are gas flushed and sealed to lock the freshness in. The Tubz are filled with a great range of delicious Tapa style products such as premium nuts, olives, cured meats and super fruits!
Whether you are in a bar, pub, hotel, bowling centre or office: simply twist and choose between several delicious Tapa Tubz snacks and enjoy!
Fillings
Premium Cashews, Honey Nutmix, Premium Pistachios, Spicy Nutmix, Smoked Almonds Cranberry Nutmix, Fruit & Nuts Mix, are some of the delicious Tapas range we have at Tubz Australia!
Tubz Tapas is a brand of Tubz Europe. By producing all our Tubz Tapas products ourselves we can always guarantee the highest quality for all our Tapa products!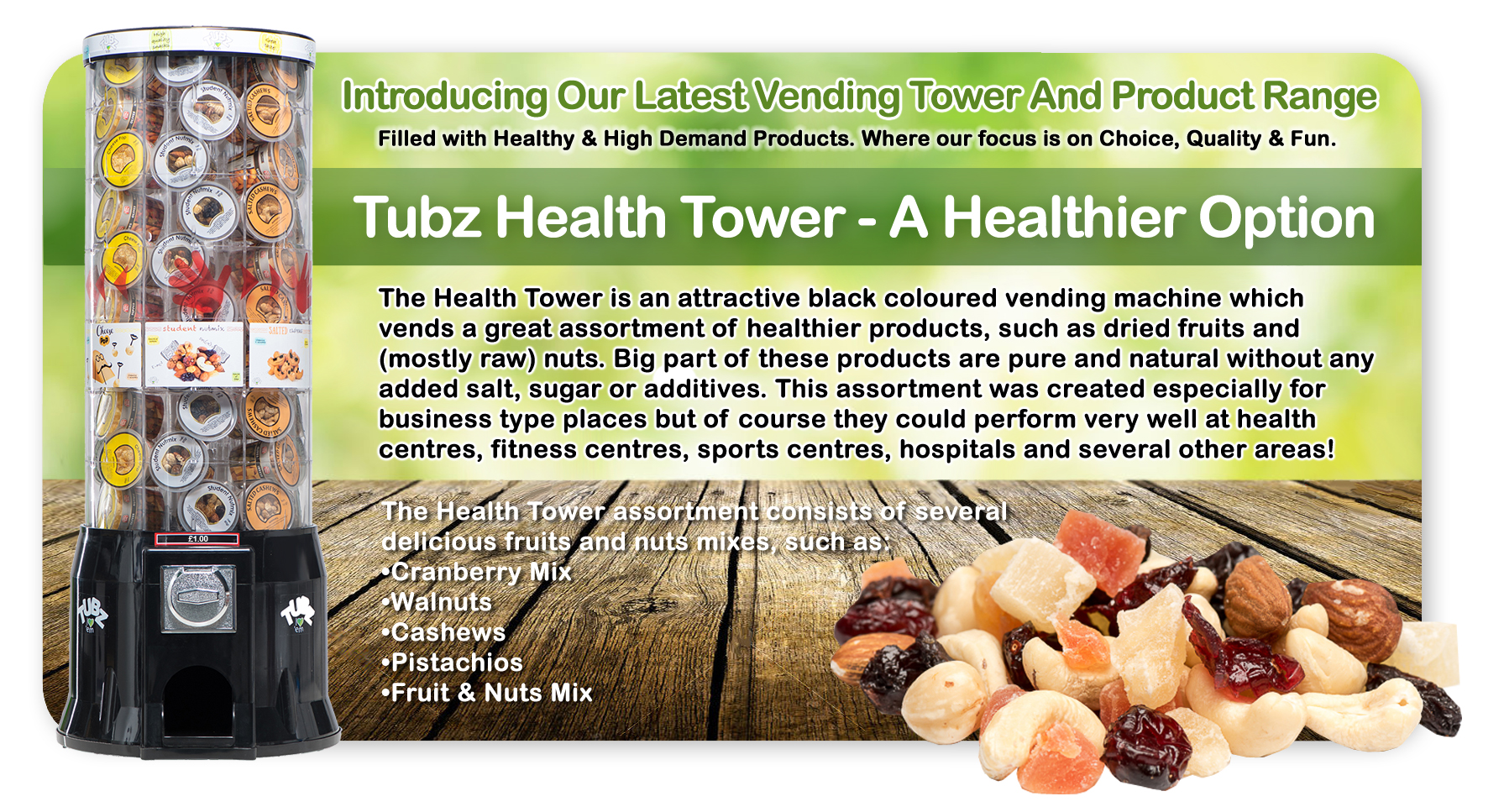 Tubz Health Tower
The Health Tower is an attractive black coloured vending machine which vends a great assortment of healthier products, such as dried fruits and (mostly raw) nuts. Big part of these products are pure and natural without any added salt, sugar or additives. This assortment was created especially for business type places but of course they could perform very well at health centres, fitness centres, sports centres, hospitals and several other areas!
Fillings
The Health Tower assortment consists of several delicious fruits and nuts mixes, such as:
Cranberry Mix
Walnuts
Cashews
Pistachios
Fruit & Nuts Mix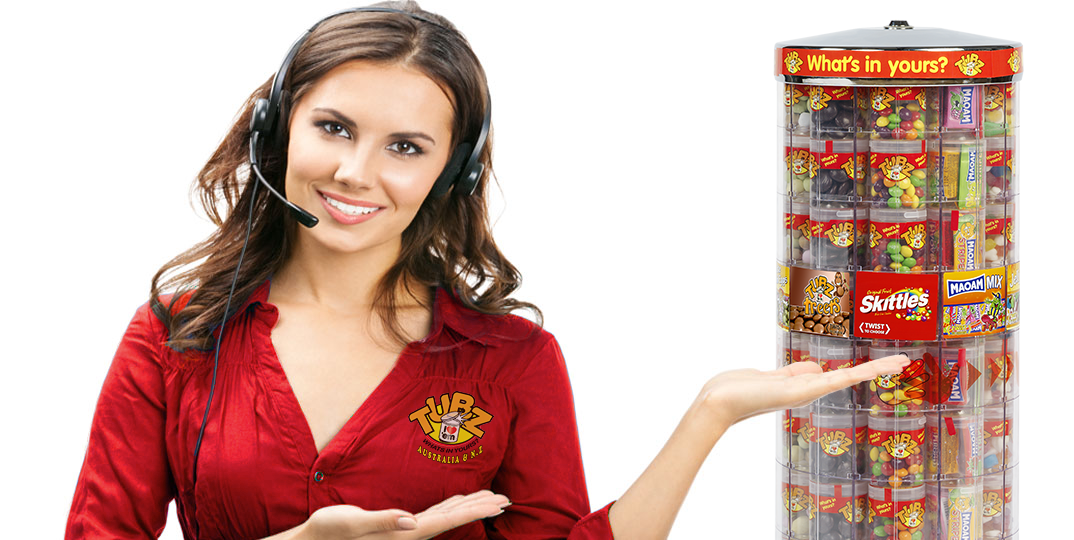 If you would like to become a valued member of the Tubz Australia Partnership simply contact us by phone to discuss your business needs. Our friendly customer service team will ensure you get a tailor made business package, hassle free and guaranteed to start earning you cash from day one.
Phone us now on +61 434 681 243 for and informal chat and we will answer any questions you may have about our services or products.
"We use your personal information to provide the services you're requested (i.e. process your order). We may also use the information for auditing research and analysis to operate and improve out technologies and services. We will not pass your details on to any third parties"