Measurements:
Diameter: 30cm
Height: 81cm (adjustable)
Content:
9 x 9 compartments
Total contents:
81 Tubz (adjustable)
Choice of price:
£1 Coin or €2 Coin
Until a few years ago the only vending dispenser on the market was the bulk vendor.
These dispensers are now perceived to be unhygienic, only vending a handful of product and in many cases without any ingredients labelling or sell by date. Many EU countries are looking to stop or restrict the use of these bulk vendors as they do not meet the new government EU legislations for food labelling and packaging.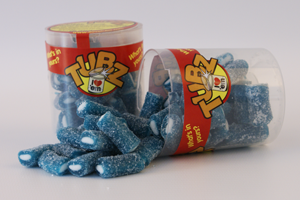 Tubz Fizzy Blue Pencils
This is a brand new product that is taking Europe by storm. We are the first company to offer this quality product to the Australian market.
It joins the Tubz pencil family along with the Strawberry and Assorted pencils and we think they will be bigger than both of these.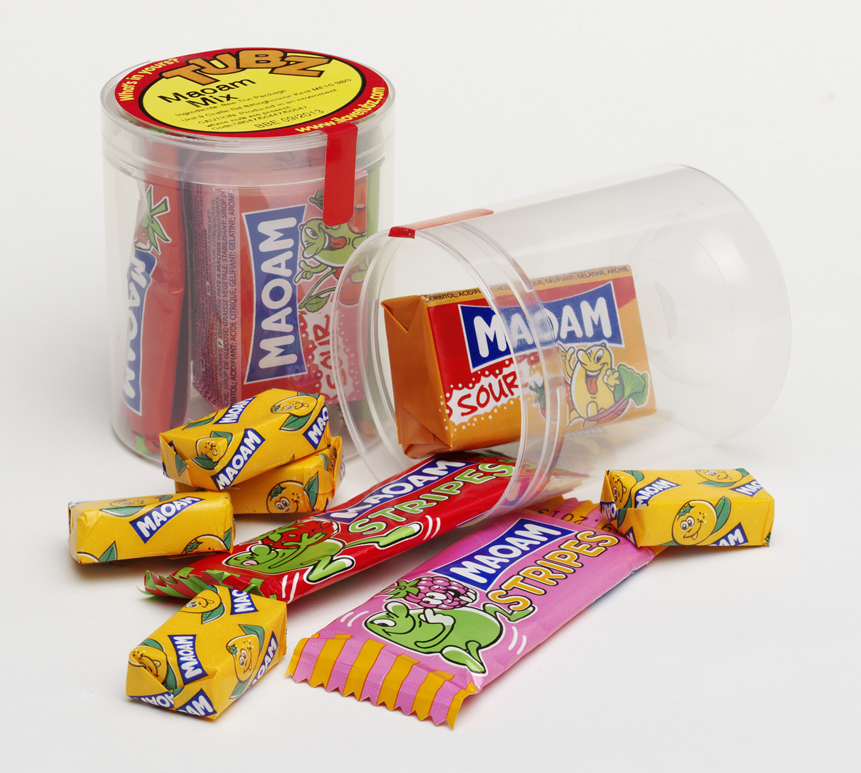 Tubz Maoam Mix
Now available in mouth watering mini tubs which are packed with Maoam Stripes, Sour Minis and Sweet Minis, Haribo's much loved chews come in fun orange, apple, cola, cherry and strawberry varieties – all bursting with real fruit flavour.http://www.tubzaustralia.com/wp-admin/post.php?post=40&action=edit#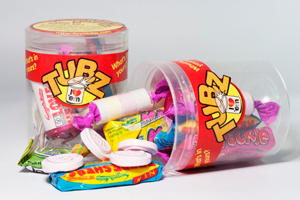 Tubz Mini Sweet Mix
This is truly a treat, all the favourite sweets in one Tubz. A mix of sweets that will please everyone adults will remember all these truly iconic sweets and children will have fun discovering them with a pack of Love Hearts, a Refresher chew, a pack of mini Fizzers and a 2 x snap & crackle chews in EVERY Tubz !!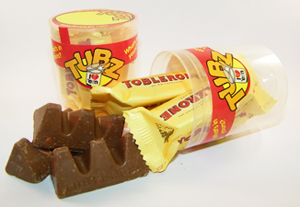 Tubz Mini Toblerone
Tubz have done it again with another first. What a coup another Worldwide massive brand from Kraft.
We are pleased to announce with the full backing of Kraft the arrival of our latest product Toblerone.
This is bound to be one of our all time top sellers the well know milk chocolate triangles with honey and almond nougat. Everyone loves it.
Did you know Toblerone was first invented in 1908 with a special recipe, Toblerone is a play on the names of Theodor Tobler (the son of the founder) and 'Torrone' the Italian word for Honey & Almond Nougat.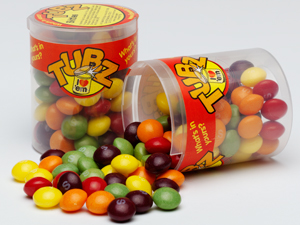 Tubz Skittles
Another huge worldwide brand that was introduced to the UK in 1982. Taste the rainbow of fruit flavours with a colourful candy shell & chewy centre. Did you know that over 2,000,000 are made every day and enough are made each year to trail every inch to the Moon !!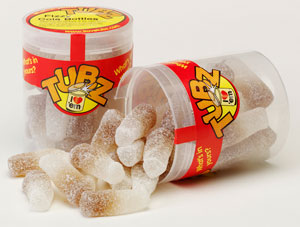 Tubz Fizzy Cola Bottles
Who doesn't know these ever popular sweets, sugar coated cola tasting with just the right amount of Fizz.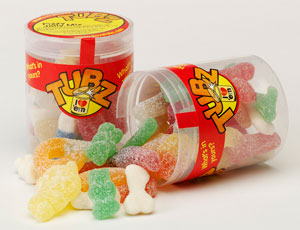 Tubz Fizzy Mix
A good mix of sugar coated jelly sweets with an initial sour taste to bring out the different fruit flavours.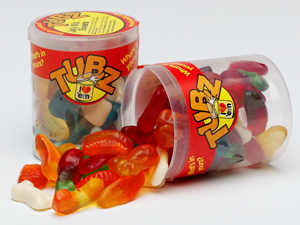 Tubz Jelly Mix
One of our latest additions a popular gelatine sweet of mixed colours and fruit flavours proved to be extremely popular excellent choice.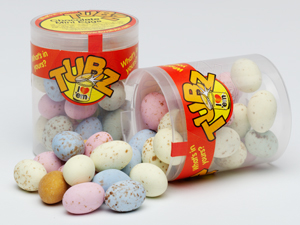 Tubz Mini Eggs
Always a top seller and everyone's favourite, was originally available at Easter now with us you can eat them all year round.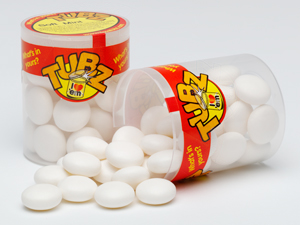 Tubz Soft Mints
A good alternative to mint imperials again not too hot , but under the crisp top coating there is a great chewy centre.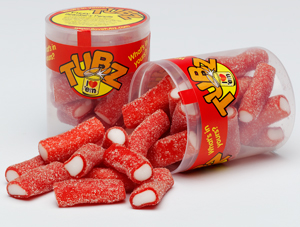 Tubz Strawberry Pencils
Small cylinders of red liquorice with a sugar coating and a fondant centre creating a great sweet with an initial fizzy burst.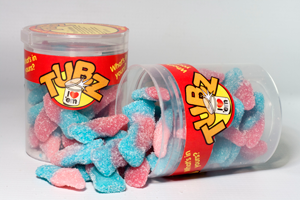 Tubz Tutti Frutti Bottles
We have been repeatedly asked for these colourful mini bottles that will add to the fizzy cola and fizzy cherry bottles, both very popular in their own right. Tubz Tutti Frutti Bottles are very different in taste and are really good. We are confident that they will be as popular as the other bottles. They have been around for some time and have always been a top seller.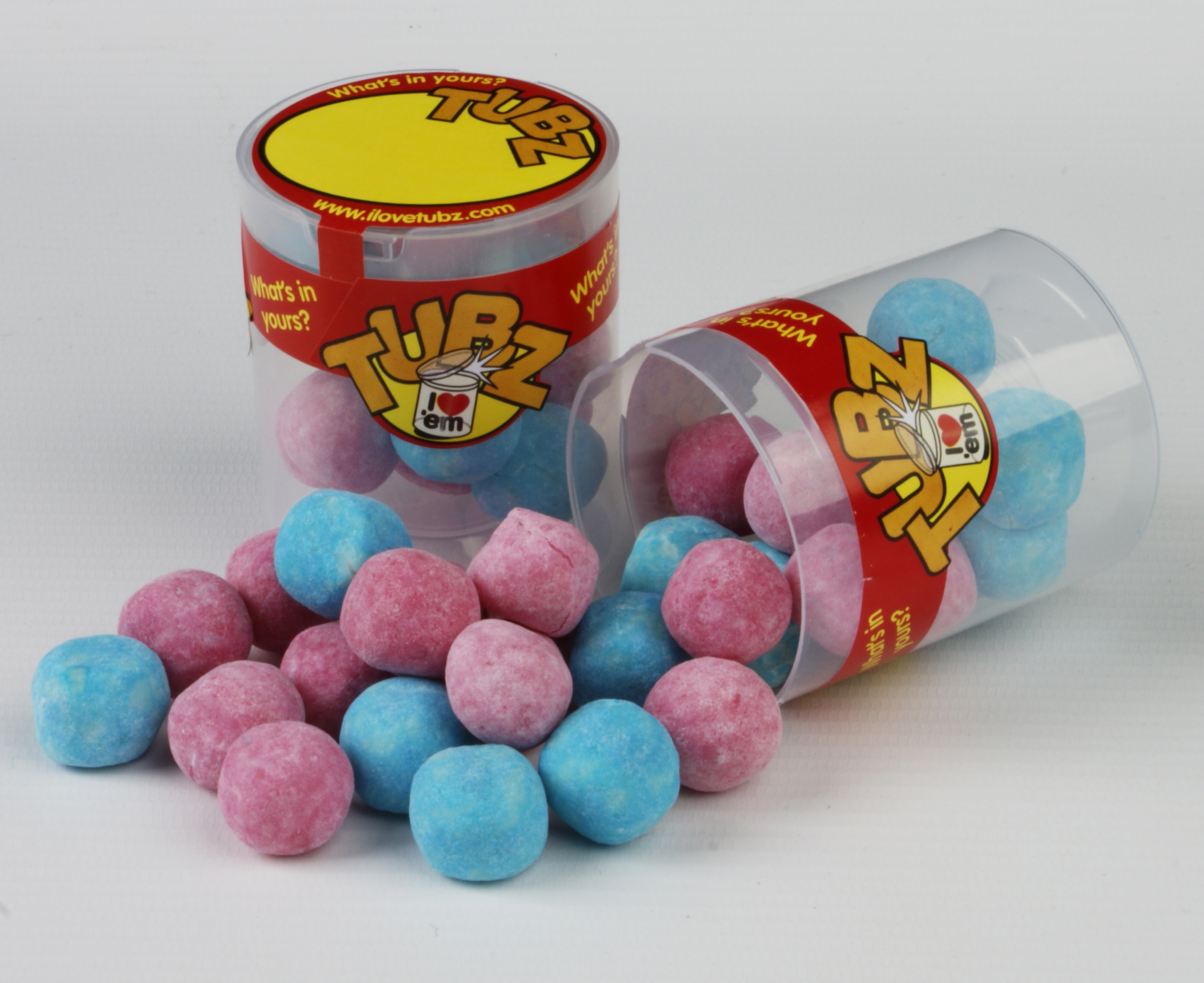 Tubz Blue Raspberry Bon Bons
We have found another little gem on our travels abroad. From Europe and the same family manufacturer as our very popular mixed bon bons we are proud to announce the arrival of Blue Raspberry Bon Bons.
The makers tell us that the Blue Raspberry Bon Bons are more popular that the mixed bon bons and they should know they have been making them for many years to an old family secret recipe and to the same high standards.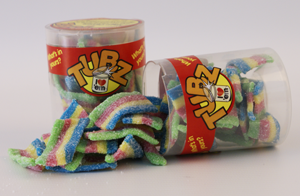 Tubz Fizzy Magic Carpets
These multi coloured eye catching products are very similar tasting to our Assorted Pencils, they are excellent quality and as soon as we saw them we knew they would be winners. Your customers will love them! They are eye catching and taste great, but best of all is the low price, so you will make superb profit margins.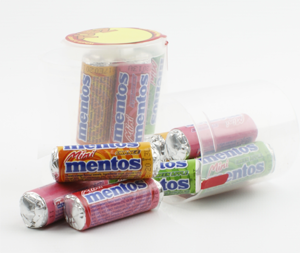 Tubz Mentos Fruits Assorted
Tubz the market leaders launch yet another World Wide brand which will certainly be a best seller. Mentos fruit chewy sweets with 4 x tubes in every Tubz including Orange, Apple, Lemon and strawberry offering excellent value for money. Mentos were first launched in 1932 this was as a mint. In 1973 the first fruit flavours were introduced and in 2013 new flavours including strawberry and the sour range were launched and Mentos is still a World beating brand and sweet. They are in stock now with the colourful product stickers. So be the first in your area to order them and see them fly out!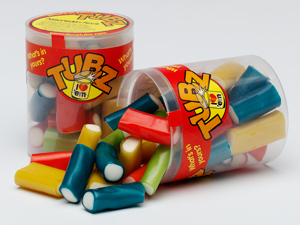 Tubz Assorted Pencils
Another recent addition, an alternative to our strawberry pencils these are multi coloured with different tasting small liquorice cylinders with fondant centres.